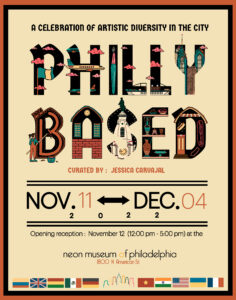 PHILLY-BASED: A celebration of artistic diversity in the city
On view November 11, 2022 through December 4, 2022
Opening reception: Saturday, November 12, 2022 from 12pm to 5pm
The Neon Museum of Philadelphia and illustrator Jessica Carvajal present 13 international artists who currently practice in the city of Philadelphia. PHILLY-BASED celebrates the creative contributions, flavors, and styles brought to the city by these artists, representing Philadelphia's strength as a hub of cultural diversity.
Featured artists:
Lara Cantu-Hetzler (USA)
Chau Nguyen (Vietnam)
Lauren Whearty (USA)
Yuliya (Ukraine)
Linda Fernandez (Cuba)
Ziania Narvaez (Mexico)
Daniel Mendez (Colombia)
Annabel Perrigueur (France)
Madeline Conover (USA)
Nicola Wescombe (UK)
Paola Lambertin (Bolivia)
Jessica Carvajal (Colombia)
Karina Puente (USA)
Curated by Jessica Carvajal.