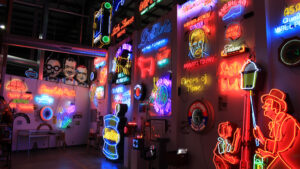 After almost two years of love and light, we're sad to announce that the Neon Museum of Philadelphia is closing its doors.
As we near the end of our run, we celebrate the opportunity we've had to display our collection of history and art with visitors from Philadelphia and beyond.  It has been a pleasure to share our love of neon and appreciation for Philly culture in this unique community space.
We're grateful for your support and for our partnership with NextFab and all of our neighbors.  Beyond its residence at 1800 North American Street, we would love the Museum to continue elsewhere in some form.
We're seeking a new home for the collection that allows it to stay unified, local, and publicly accessible.  Ideally, partnership with a local institution could make this dream possible.
The Museum's final day will be December 11, 2022
 and we'll maintain our regular hours:  Fridays 1pm to 6pm, Saturdays and Sundays 12pm to 5pm, (closed November 25).  Here's your chance to visit once more or experience our neon collection and special exhibitions for the first time.
Stay tuned for further announcements related to the future of the Neon Museum of Philadelphia.  Let's keep the lights shining and Philly culture burning bright.
Thanks for your support.
Sincerely,
Len Davidson, Founder
And the Staff of the Neon Museum of Philadelphia
—-
For all inquiries, please contact Alyssa Shea: info@neonmuseumofphiladelphia.org